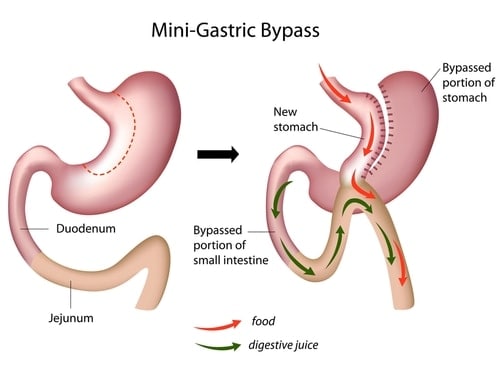 Mini-Gastric Bypass (MGB)
This procedure creates a long, narrow tube of the stomach, and is a somewhat technically easier and hence a lower risk option than the traditional gastric bypass.
It is also sometimes called Omega Loop Gastric Bypass or One Anastomosis Gastric Bypass.
A Mini-Gastric Bypass procedure involves the stomach being divided with a laparoscopic stapler, so that most of the stomach is no longer attached to the oesophagus and will no longer receive food. The new stomach will be shaped like a small, long tube along the right border of the stomach.
Food will now move through the new tube stomach into the attached loop of jejunum. The main benefit of this procedure over the traditional RYGB is one small bowel anastomosis rather than two. The surgery is therefore a little easier and said to eliminate internal hernia (which complicate the RYGB). Initial studies show a similar weight loss can be achieved with less re-routing of the intestines with this procedure.
This procedure is best suited for people who have severe diabetes mellitus (on insulin) and no gastro-oesophageal reflux. The MGB is contraindicated (not done) in patients with GERD.
Ask Dr John Jorgensen which procedure is best suited to your situation.
Subscription
Join our mailing list to keep up to date with the latest from Dr Jorgensen's team click here.